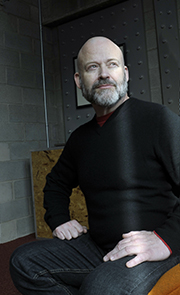 ABOUT DANA P. ROWE
DANA P. ROWE is an American composer whose musical theater works have been performed internationally with commercial productions in New York City, London's West End (Theatre Royal Drury Lane, Prince of Wales, The Donmar Warehouse), Russia, Czech Republic, Japan (including Tokyo's Imperial Garden Theatre), Germany, Australia and Sao Paulo, Brazil.  With lyricist, John Dempsey, he wrote the music for Off-Broadway's Zombie Prom, The Fix (directed in London at the Donmar Warehouse by Oscar winning director, Sam Mendes), a stage adaptation of John Updike's The Witches of Eastwick, The Reluctant Dragon, an operetta for children based on Kenneth Grahame's story and Brother Russia, which, like both The Fix and The Witches Of Eastwick, premiered in the US directed by Eric Schaeffer at the Tony winning Signature Theatre in Arlington, VA.  Rowe and Dempsey received Olivier Award nominations for The Fix and The Witches of Eastwick, both of which were produced in London by Sir Cameron Mackintosh.  Dana collaborated with Maribeth Graham to write See Jane Run! which premiered in Miami at the Actors' Playhouse and composed the score for The Ballad of Bonnie and Clyde, a musical based on the famous bank-robbing couple, with book and lyrics by Michael Aman and Oscar E. Moore.  Dana received the Dean's Award for Excellence in the Arts from The Ohio State University and is a proud member of the advisory board for Miami's Zoetic Stage.
Brother Russia was the recipient of an Edgerton Foundation Award for New American Plays and a grant from the National Endowment for the Arts. Additional support was provided by Shugoll Research.
Dana recently finished the score for a musical about the Mexican artist, Frida Kahlo (with book and lyrics by Michael Aman) .
Save